You only live once
But if you do it right
Once is enough
Get to know some of my coaching tools! Simply leave your name & email address to receive my eBook "22 Self-Coaching Tools For A Whole-Hearted Life".
Because real change starts from within.
You are a visionary, a change maker, a creator
And at the same time, you are overwhelmed by juggling too many things at once. You're a high achiever, but it still does not feel like you're actually doing or being enough. Although you have a clear feeling of what you can achieve, you lack direction and confidence to take the next steps. Sounds familiar?
Learn how to re-define your expectations of yourself, create a clear vision for your life and successfully move towards it. Take small steps with great consistency and experience how your self-awareness builds up over time.
To live consciously is the rarest thing in the world. Most people just exist.
My name is Ramona, and I am a Personal Leadership coach and mentor for young people in their 20s and early 30s. To me, playing an active part in today's world of infinite opportunities is truly exciting – however, if we don't develop leadership skills according to our own personality and vision, we often feel frustrated, overwhelmed and unfulfilled. 
Navigating the rocky water of life as a Millennial and taking full responsibility over your own life is no easy task. Working with a coach or mentor is one of the best ways to grow, learn about yourself & your patterns and become a conscious citizen of the 21st century.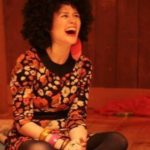 Ramona has a magical ability to be present and listen to her intuition when she coaches! She always stayed open to my true voice and never judged, which I felt was essential for me to find out what my true voice really is. I loved working with her and could not wait for the next sessions.
HOW I WORK WITH MY CLIENTS
1. CURIOSITY
The first step on our coaching journey is to become curious and ask questions like: What do I want to change in my life? Where do I want to go? What lights me up?
2. CONNECTION
Once you start asking curious questions and gain awareness, you also start to connect with your self and your deeper purpose. You start to see where you live in congruency with your true self, and where you don't.
3. CONVERSATION
This is where we get down to the nitty-gritty part of coaching. Powerful weekly coaching conversations create a safe container for you to explore and re-shape your mental patterns, habits and life.
4. CREATION
Coaching is a process. Over time, you become ready to put your new relationship with your self into practice. This is where you create first results through small yet effective action steps.
5. CHANGE
In the last part of the coaching process I ensure that you have developed lasting strategies, habits and the right mindset to sustain your life changes. You walk away as a conscious leader of your own life.
Live your definition of freedom
Freedom, to me, is the ability to create our life based on our own values and vision. It means knowing ourselves well and being aware that we are responsible for our actions as well as the results we get. We have the power to actively shape our lives and to have a profound impact on the world around us. Are you using this power? I invite you to an exploration of what it means to lead your life with consciousness and confidence.